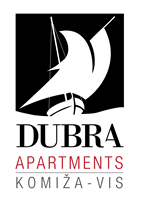 Welcome to the island of Vis

KOMIZA - Citta di pescatori, bellezza e turism.
Nella parte occidentale dell' isola di Vis, dove la natura ha dipinto uno dei paesaggi piu belli, ai piedi del monte Hum, e situata Komiza, il piu pittoresco villaggio di pescatori dell' Adriatico.
Navigate verso l'isoletta di Bisevo, conosciuta per le sue spiagge sabbiose e soprattutto per la Grotta Azzura, vero festival di blu e sinfonia di colori.
read more »
The Dubra Apartments

Gentili ospiti,Gli appartamenti Dubra si trovano a Komiza, sull'isola di Vis, in due nuove case a pochi minuti dal centro.
Vi offriamo cinque nuovi e comodi appartamenti che si trovano a Komiza accanto all'albergo "Biševo", a 100 metri dalla spiaggia e a 200 metri dal centro della citta.
Gli appartamenti danno sulla bellissima baia di Komiza e isola di Bisevo o sulla citta con la torre rinascimentale e la chiesa di San Niccolo in alto.
read more »
Contact us
The Dubra Apartments
T: 00 385 21 713 821
M: 00 385 (0)98 97 56 271
M: 00 385 (0)99 51 70 249
A: Mihovila Pavlinovića 11
A: 21485 Komiža, Croatia
Weather Forecast
Danas
03.10.22
04.10.22
05.10.22
Forecast 2. Ottobre 2022.
day
Forecast 3. Ottobre 2022.
day
Forecast 4. Ottobre 2022.
day
Useful links
Our Facebook page
© 2011 — 2022 The Dubra Apartments Komiža. All Rights Reserved. Web Design & Photography:
Stjepan Tafra