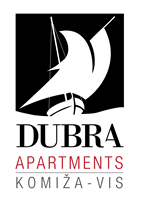 Welcome to the island of Vis

KOMIŽA - ein Fischer, Touristen und Schönheitsstädtchen.
Es ist der malerischste Fischerort an der Adria. Die Insel ist auf der Liste des WWF unter zehn letzten Paradiesorten im Mittelmeer. Sie ist ein Urlaubsziel der Gäste, die eine andere Form vom Urlaub suchen, im Einklang mit Natur, in Ruhe ...
Besuchen Sie Biševo, eine kleine Insel , die für ihre Sandstrände und Die blaue Grotte (Modra špilja) mit ihren Lichteffekten weltweit bekannt ist.
read more »
The Dubra Apartments

Verehrte Gäste,In der Nähe des Zentrums bieten wir Ihnen fünf neue komfortable Appartements in verschiedenen Größen für zwei, drei und vier Personen.
Die Appartements befinden sich in Komiža neben dem Hotel "Biševo", 100 m vom Strand und 200 m vom Zentrum entfernt.
Die Appartements haben einen Blick entweder auf die Bucht von Komiža oder auf den Stadthafen und Nikolaikirche.
Die Appartements im Erdgeschoss haben einen Ausgang auf die Gartenterrasse.
read more »
Contact us
The Dubra Apartments
T: 00 385 21 713 821
M: 00 385 (0)98 97 56 271
M: 00 385 (0)99 51 70 249
A: Mihovila Pavlinovića 11
A: 21485 Komiža, Croatia
Weather Forecast
Danas
07.12.22
08.12.22
09.12.22
Forecast 6. Dezember 2022.
day
Forecast 7. Dezember 2022.
day
Forecast 8. Dezember 2022.
day
Useful links
Our Facebook page
© 2011 — 2022 The Dubra Apartments Komiža. All Rights Reserved. Web Design & Photography:
Stjepan Tafra