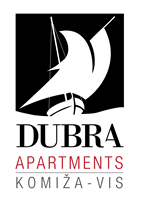 Welcome to the island of Vis

KOMIŽA - gradić ribara, ljepote i turizma.
Na zapadnoj strani otoka Visa gdje je priroda oslikala jedan od najljepših krajolika, u podnožju brda Hum svila se Komiža, najslikovitije ribarsko naselje na Jadranu. To je odredište gostiju koji traže drugačiju vrstu odmora, u harmoniji s prirodom, u tišini...
Ako želite osjetiti opojne mirise limuna, lavande i ružmarina, dođite u proljeće. Ako tražite odmor u miru i tišini, dođite i otkrijte Komižu.
read more »
The Dubra Apartments

Poštovani gosti, nudimo Vam pet komfornih novih apartmana u blizini centra, različitih veličina za 2, 3 i 4 osobe.
Apartmani nalaze se u Komiži pored hotela "Biševo", 100 metara od plaže i 200 metara od centra mjesta. Kuća je okružena zelenilom.
Apartmani imaju pogled na komišku uvalu i otok Biševo, ili na gradsku luku i crkvu Sv. Nikole.
Nadamo se da ćete u našim apartmanima provesti ugodan godišnji odmor.
read more »
Contact us
The Dubra Apartments
T: 00 385 21 713 821
M: 00 385 (0)98 97 56 271
M: 00 385 (0)99 51 70 249
A: Mihovila Pavlinovića 11
A: 21485 Komiža, Croatia
Weather Forecast
Danas
07.03.21
08.03.21
09.03.21
Forecast 6. ožujka 2021.
day
Forecast 7. ožujka 2021.
day
Forecast 8. ožujka 2021.
day
Useful links
Our Facebook page
© 2021 The Dubra Apartments Komiža. All Rights Reserved. Web Design & Photography:
Stjepan Tafra