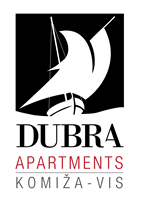 Welcome to the island of Vis

KOMIZA - Town of fishermen, beauty and tourism.
On the western side of Vis island where nature painted one of the most glorious landscapes, at the foot of Hum hill nestles Komiza, the most picturesque fishing settlement in Croatia.
The WWF declared the island of Vis one of the ten last paradises in the Mediterranean.
It is a destination for guests who seek a different kind of holiday, in harmony with nature, in quietness...
read more »
The Dubra Apartments

Dear visitors, we offer you five new and comfortable apartments of different sizes, accommodating 2, 3 or 4 guests.
The apartments are located in Komiza, near the hotel "Bisevo", 100 meters from the beach and 200 meters from the centre of the town. The mansion is surrounded by grennery.
The apartments have a wonderful view over the Komiza bay and the nearby island of Bisevo, or the town port and St. Nicholas church.
We hope that you will have a nice and relaxing holiday in our apartments.
read more »
Contact us
The Dubra Apartments
T: 00 385 21 713 821
M: 00 385 (0)98 97 56 271
M: 00 385 (0)99 51 70 249
A: Mihovila Pavlinovića 11
A: 21485 Komiža, Croatia
Weather Forecast
Danas
07.12.22
08.12.22
09.12.22
Forecast 6. December 2022.
day
Forecast 7. December 2022.
day
Forecast 8. December 2022.
day
Useful links
Our Facebook page
© 2011 — 2022 The Dubra Apartments Komiža. All Rights Reserved. Web Design & Photography:
Stjepan Tafra